Yesterday, Matt Singley (@mattsingley) asked a simple, but rather provocative question via Twitter: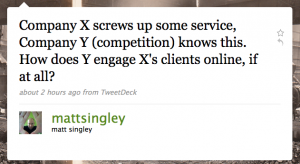 What ensued was an interesting mini-conversation about how to successfully and effectively engage with a competitor's customers through social media.
The set-up
Let's say you work for Company Y in Matt's scenario and have a social media/online monitoring program that watches not only for mentions of your company's name but your competitors' names, as well (and if you don't already have such a program in place, I happen to know a very good agency that can help you).  In the course of your monitoring, you discover that Company X has screwed up and now has some royally discontented customers. What do you do?
Your first instinct may be to jump on this golden opportunity quickly so you can grab some new customers…and I'm going to suggest you squelch this instinct. By being overzealous in your online efforts, you can actually do more harm to your company's online reputation than good. Don't be the jackal eagerly waiting to pick off the discontented carcasses of your competitors' customers.
What should you do, instead?
First, listen, do a little legwork, understand. Find out what happened. In our online world, it's not that hard to uncover what's going on when a competitor screws up. Do not – REPEAT, DO NOT – wade into any tweetstream or blogpost until you figure out what's going on. Failing to grasp an initial understanding of how the customer feels will only make you appear insincere and predatory.
Second, be a human being. Sorry if that seems overly simplistic and obvious, but its astounding how often we forget that long-term sales relationships starts with treating customers like humans with respect. After gaining an understanding of the situation, practice some empathy. Ask yourself, "If I was this individual, would I want someone to start aggressively hawking their wares under my nose right now? Or would I prefer someone to treat me better than I've just been treated by Company X?" A little empathy goes a long ways.
What might this look like? Here is a fresh scenario from Twitter:
A customer becomes irritated with a rival's product or service. Here's an example from @Dotpage who is calling out @logitech's slow driver updates: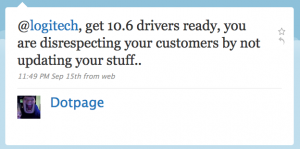 Let's say you work for Altec Lansing and uncover a tweet like this. Now maybe no one – including your own company – has drivers ready for Snow Leopard, but here's a prime opportunity for you to approach a competitor's disgruntled customer. A course of action might be to research the social media chatter coming from Twitter (http://search.twitter.com/search?q=+to%3Alogitech) where you'll find this issue is significant source of irritation among Logitech's customers. Then, your first @ reply should be to note the problems faced by the individual – in this case, a lack of updated drivers. Perhaps send a tweet such as "Sorry to hear about the problems you're having with speaker drivers…it sucks to not be able to hear sounds from your Mac." Resist the urge to openly sell your product on first tweet. Remember, your aim is to build a long-term relationship not make a quick sale.
Not everyone you send @ replies are going to respond and that's okay. For those individuals who do reply, here's the opportunity to guide your competitor's customer toward your own products and services. Ask what they want from a product, what drives them crazy, what a company can do to improve their experience. You now have a personal, one-to-one conversation with a buyer that can turn them into a raving fan. People become passionate about purchasing from other people, particularly those who genuinely want the best for them. This interaction can be a catalyst for introducing a customer to your own products and services without the need for even making an open sales call.
After you've made contact with the individual on Twitter, then follow them. Don't make following the first course of action – this is the type of behavior that bots employ and again can be seen as an overly aggressive predatory tactic that will turn off the potential prospect.
Third, make sure every single person in your company is working from the same playbook. This is where breaking down silos and cross-functional planning cannot be under-emphasized. If just one person from your company leaps in like a jackal, then there's a better-than-average chance your company's image will be tarnished along with that of Company X.
Any thoughts or counterarguments here? What's worked for you as a disgruntled customer? What's worked or hasn't worked for your company in having conversations like these?