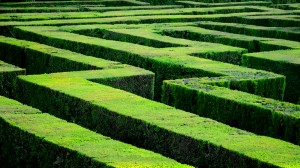 Okay, here I go…out on the proverbial limb. For a while, I've been listening to a very persuasive voice within me that said, "Chris, you're a marketer and that's all you should be doing. Now go out and find marketing-related jobs." Want to know something strange? I'm not really a marketer. Sure, I have a solid grounding in the profession and even have some experience doing it. However, In the end, I'm a mutt, a dabbler, a generalist. I've successfully tackled positions like customer service, sales, data processing, web design, and yes, marketing. I've worked in non-profits and for-profits. I've even tried launching my own businesses a couple of times.
My professional trajectory hasn't been a straight line…more like a zigzag. This is both good and bad. The good? I possess a wealth of different experiences, skillsets, and knowledge. This diversity allows me to uncover patterns that many "straight line" professionals likely can't see. The bad? Most organizations don't value this eclectic background so much. They want straight-liners and set their hiring practices up to reward them.
So for many of us career zigzaggers, vocational searchers, and Renaissance Souls we tend to feel neglected and discarded and wonder what the hell we ever did wrong to find ourselves in such a world. We then do something that truly dishonors our selves and undermines our value: we try to emulate the straight-liner. We interview and market ourselves like the straight-liners, all the while downplaying our own richness, our own unique qualities. We try to cram our polygon peg into the square hole and then wonder why we're so dumb because it doesn't fit.
Does this sound familiar to you? If so, know you're not alone. It's time to acknowledge that we have tremendous value to give. It's time to be bold and proudly profess our unique abilities. We're quick learning, intensely creative, spectacularly curious professionals (to name just a few attributes). So here's my call to action: Instead of hiding our light under a bushel basket, let's not just uncover it – let's throw kerosene on it and start a wildfire. Even if they don't know it yet, employers need us. Business today is moving way too fast for the straight-liners and the specialists to keep up. Organizations truly need our broad skillsets, diversity of experiences, and ability to learn quickly.
If you find yourself identifying with the zigzagger ideal, come and share your experiences. What are your frustrations? Any tips for how you've overcome challenges and claimed your value?
Now go out there and set your fire today.
photo credit: marcelgermain (via Flickr)