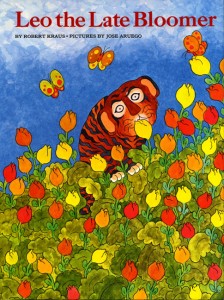 One of my favorite children's books that I fondly remember reading to my two daughters is called Leo the Late Bloomer
. It's the story of a young tiger cub who learns to do things on his own timetable. When all his other young animal friends are reading, talking, and writing, Leo feels sad and frustrated because he can't do any of those things well. His dad is concerned and asks Leo's mom, "Are you sure Leo's a bloomer?" She lovingly replies, "Patience. Leo is just a late bloomer."
While written for children (and their worried parents) who struggle to bloom while their peers seem to pass them by, the book's message speaks to all of us who are still uncertain of our purpose in life.
Now I'm getting pretty close to 40 and the ticking I hear isn't the oft-discussed biological clock. It's more like the drumbeat of societal (possibly personal) expectations compelling me to finally figure out my place in this world. When given voice, it's a critical one questioning why I'm not further along on a career path, not more renowned in a chosen field, not closer to the top of my game. It should've all happened by now…right? Is this a sign that marketing/branding/customer experience just isn't the right place for me? I confess I often feel like Leo: when all his peers are able to write eloquently and eat without making a mess, he's undoubtedly wondering if his time will ever come.
And yet…
A completely different way of looking at it might be that those of us who are on this journey are the lucky ones. Our longer-than-intended quest for professional meaning and self-discovery can help us to be even brighter and shinier than if we had it laid out for us in black and white.
I do take comfort knowing I'm not the only one who took time to figure out the meaning of their lives in their work. Several creative geniuses showed us that success comes at any age.
Julia Child didn't achieve culinary acclaim until her late forties.
Alfred Hitchcock directed his finest achievements between the ages of 54 and 61.
Paul Cézanne's greatest works were painted in his sixties.
And here are a few more curated posts:
Late Bloomers: 7 Authors Who Prove It's Never Too Late To Start A Writing Career
The Late Bloomer from Forbes Magazine
Late Bloomers from Malcom Gladwell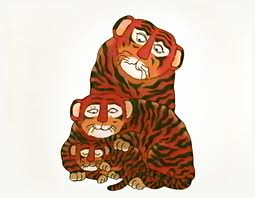 As Leo's mom would lovingly advise, perhaps all we need to do is remind ourselves to be patient. Our blooming is just coming a bit later.
PS. Thanks for reading. This post – more than others I've written lately – did not come easy at all. I wrestled with vulnerability and tried my damnedest to keep the whininess to a minimum. My hope is that something here resonated with you. If that did happen, then I am honored in knowing it was worth all the effort to write.