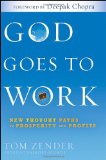 Yesterday, I sat in a workshop led by Tom Zender and based on his book, God Goes to Work: New Thought Paths to Prosperity and Profits. If you've been with me for a while, you might remember I used to write a blog called Alchemy of Soulful Work. As a matter of fact, I still own www.alchemyofsoulfulwork.com for the day when I get off my rear to write the book I've long planned to write.
It was an engaging and inspiring workshop where we were challenged to think how we could bring more of our spirituality to the workplace. Now before you get all squeamish that we participants were being prodded to proselytize, let me ease your concerns. In the workshop (and in my own personal belief) spirituality is not the same as religion – they are two very different animals. In fact, spirituality is a cornerstone to my philosophy behind soulful work.
I can speak from personal example that I'm a much better leader when I'm spiritually centered. I'm a better manager when I choose to see the inherent goodness and potential of my employees. I'm a much better employee when I operate from a we-focused mentality and not get caught up in the politics that sometimes appear around me. See, it's not about beating people over the head with prayer and Jesus and religion. It's all about being a positive yet non-invasive source of light in an environment that often desperately needs it.
All of which leads to a question: what stops us from practicing soulful work? Why do we choose to believe we have to divorce our spiritual life from our working life? Let's start a dialogue and feel free to debate these questions.